Increase Your Self-Confidence, Self-Esteem, Self-Worth By Identifying And Overcoming Limiting Beliefs
Start Learning How To identify And Overcome Your Limiting Beliefs Today!
 Overcoming Limiting Beliefs,
Is The Key To,
✅  Building More Confidence
✅  Creating Better Relationships
✅  Increasing Self-Esteem
✅  Finding Success In Your Career
✅  Improving Sense Of Well-Being
✅  Removing Self-Doubt 
✅  Easing Stress And Anxiety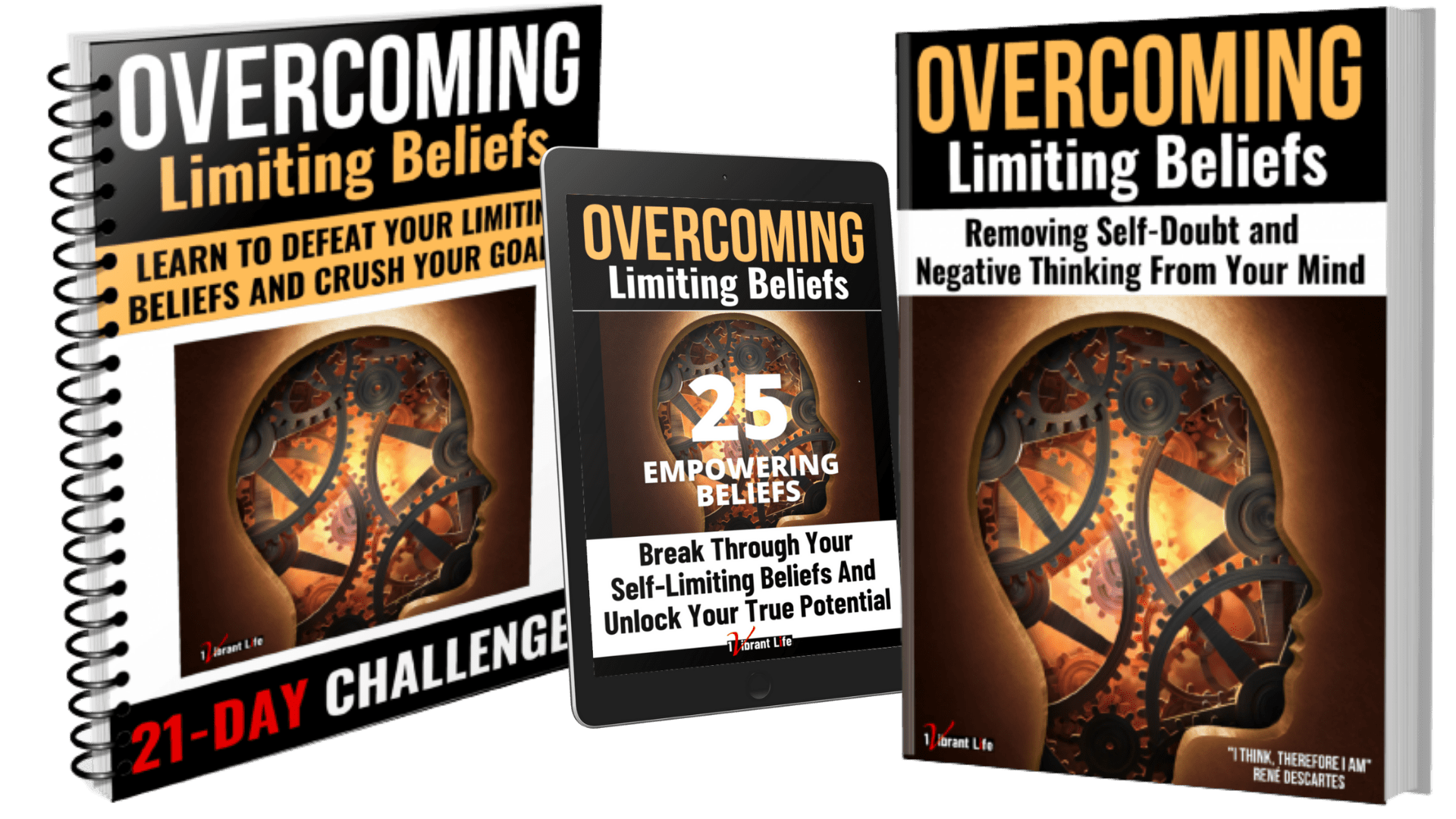 Plus Get Two FREE Bonus Ebooks With Purchase! See Complete Package Below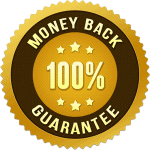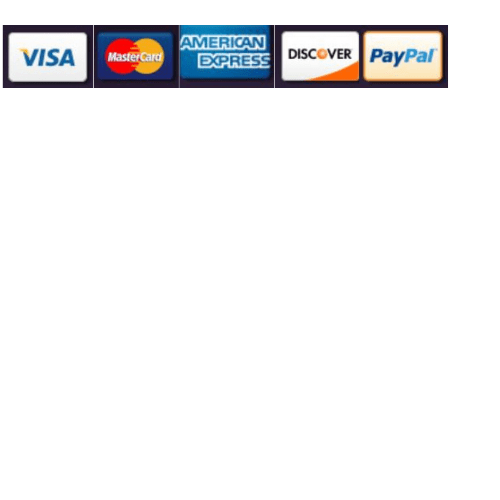 Why you need to learn to identify and overcome your limiting beliefs
You, like everyone else, have developed your own set of beliefs throughout your life. Perhaps some of your beliefs have been created through some form of a traumatic event. These beliefs you've formed are also known as core beliefs. 
However, core beliefs can have an additional element called limiting beliefs attached to them. These limiting beliefs are most often, if not consistently, negative.
The problem is, and that's why you're here, most people go through their lives not even knowing what limiting beliefs are, or even if they did, they have no idea what to do about them.
These limiting beliefs are likely holding you back in your life. 
Self-confidence, self-doubt, self-image, self-worth are the overriding elements that keep you from thriving in your life. 
You can see how self-confidence, self-image, self-worth, and self-esteem can all become part of the same problem. 
Perhaps you're not confident enough around groups of people or in your career, or when you're trying out new things, starting a business, or even losing weight.
Learning to overcome your limiting beliefs is the key to becoming the person you truly want to be!
Initially, seeing the information about overcoming limiting beliefs intrigued me. After reading it, I've learned to change the way I think and respond to things in my life in a much more positive way.
Self-improvement and personal development have always been a big part of my life. But I'd never thought that my own limiting beliefs and negative thinking could be holding me back. Game changer!
Learning what limiting beliefs are and then challenging my own with more empowering, positive thoughts has definitely made a difference in how I see myself and the world around me,
What You'll Get In The Complete Overcoming Limiting Beliefs Package
✅  A comprehensive guide into what limiting beliefs are, and how to identify them and then overcome them.
✅  Learn how your limiting beliefs can be challenged and changed by systematically breaking them down. 
✅  Discover how and why the limiting beliefs you accept as accurate are false.
✅  Learn to install new empowering beliefs instead of those disempowering beliefs you've been living with.
✅  Learn how limiting beliefs develop and they currently impact your life.
✅  A 21-day Challenge that helps you identify and then counter those limiting beliefs holding you back in life.
✅  Step by step directions that will allow you to identify your limiting beliefs, melt them away, and replace them with empowering beliefs.
✅  An accompanying eBook with 25 descriptive new empowering beliefs that you can learn to adapt to your thought process.
✅  How you can conquer and eliminate your limiting beliefs and absorb new empowering beliefs, transforming your life into the confident, successful person that you're capable of becoming.
AND MUCH MORE!!
"If you accept a limiting belief, then it will become a truth for you."
~ Louise Hay.
"Remember: we all get what we tolerate. So stop tolerating excuses within yourself, limiting beliefs of the past, or half-assed or fearful states."
~ Tony Robbins
"Chronic self-doubt is a symptom of the core belief, 'I'm not good enough.' We adopt these types of limiting beliefs in response to our family and childhood experiences, and they become rooted in the subconscious… we have the ability to take action to override it"
~ Lauren Mackler
The Complete Overcoming Limiting Beliefs Package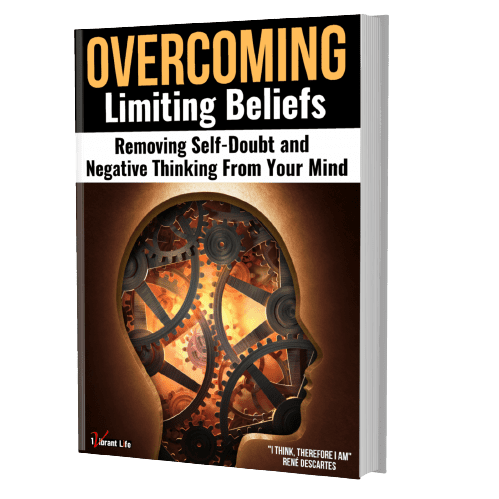 Your main Ebook, Overcoming Limiting Beliefs, is your guide into what limiting beliefs are.
An in-depth analysis of where limiting beliefs come from, how they can be identified. Then how to challenge those beliefs or thoughts as false, then systematically breaking them down.
The information inside will teach you how and why limiting beliefs are false and how you can install new and empowering beliefs to overcome them.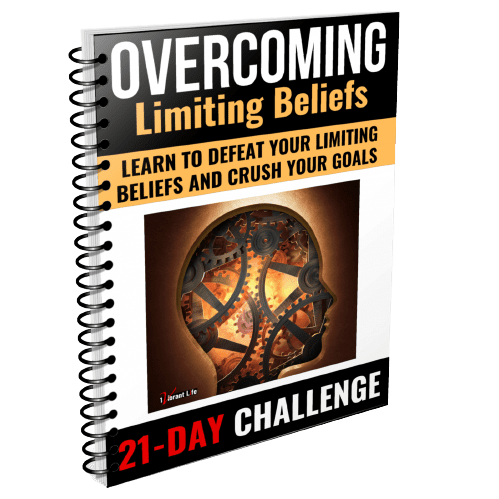 Challenging your limiting beliefs is the key to overcoming them.
When you take action to challenge limiting beliefs, as you will in this 21-day challenge, you can see and feel yourself growing and moving forward in life.
Gaining self-confidence and less self-doubt as you learn to control the negative thinking that holds you back in life.
We take you step by step through the process so that you can identify your limiting belief, dissolve them and replace them with new empowering beliefs.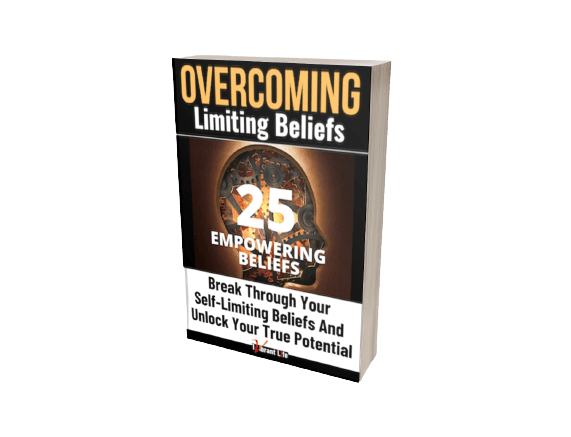 Eliminating your limiting beliefs is like power washing your mind.
Once it's done, it's fresh and clean, ready for you to absorb new empowering beliefs.
You'll learn to take these 25 new empowering beliefs and adapt them to yourself and your mindset.
Once you do that, it's time to strengthen and condition the new beliefs for them to stay strong.
These new empowering beliefs are the weapon in reframing and transforming your mind for success.
PLUS, YOU GET THESE
TWO BONUS Ebooks FREE!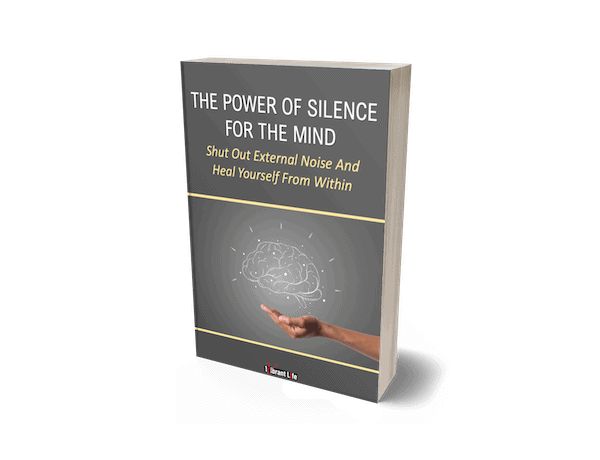 THE POWER OF SILENCE
FOR THE MIND
Silence is one of the most underappreciated tools to improve productivity and find healing.
Freeing yourself from the external stimulus of noise, your brain can better concentrate on the tasks you need to accomplish to reach your goals.
Silence can have benefits for our work, education, relationships and also help with lowering stress levels.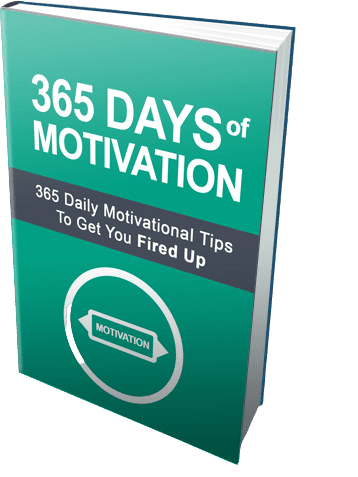 365 DAYS OF MOTIVATION
365 days of motivational tips to get you fired up!
Finding that meaning can be a lifelong journey and along the way, you may need words of wisdom that will guide you through the right path.
This ebook will let you in on some of the most inspirational tips that will help you fire up each day of your year!
 Overcoming Limiting Beliefs,
Is The Key To,
✅  Building More Confidence
✅  Creating Better Relationships
✅  Increasing Self-Esteem
✅  Finding Success In Your Career
✅  Improving Sense Of Well-Being
✅  Removing Self-Doubt 
✅  Easing Stress And Anxiety